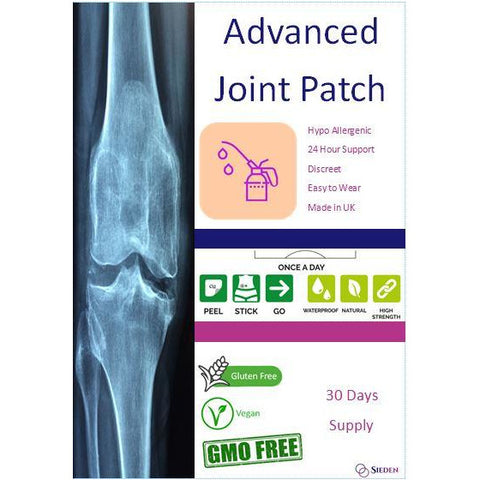 Advanced Joint Patch - 30 days supply
Advanced Joint Patch - 30 days supply
These patches help to reduce inflammation. Great for inflammation in painful joints helping to lubricate and protect cartilage to boost movement and ease pain.
The inclusion of piperine ensures that the Turmeric can be as fully absorbed as possible.
Key Benefits
Glucosamine and Turmeric Patch with vitamin A, C and E, providing you 24-hour support for your joints.
Glucosamine Sulphate
Turmeric
Vitamin A, C and E
Piperine
These patches contain a unique blend of zinc, Piperine, Glucosamine and Turmeric to reduce
Product Features
New innovative design with a + sign on each patch. The patch is activated by body
heat and dissipates over 24 hours, indicating it is time to change the patch.
Hypoallergenic
24-hour support
Discreet & easy to wear
Peel, Stick & Go
Vegetarian, Vegan, Gluten Free
Summary of benefits, Ingredients
Glucosamine helps form cartilage, commonly used as a dietary supplement to protect joints and treat joint disorders.
Turmeric has powerful anti-inflammatory effects, fights inflammation at the molecular level. Reduces pain, stiffness, and inflammation in joints
Vitamin A may help protect your bones and reduce your risk of fractures.
Vitamin C deficiency can increase the risk of developing sever joint pain, weak and brittle bones.

Vitamin E supplements may treat joint pain in some people who have a vitamin D deficiency.
Dosage
Directions for use
Using the patches couldn't be easier. Simply apply one patch to a relatively hair-free part of your body (the inner arm, lower back or shoulder are ideal) and change it at the same time every day. You can wash off any residue or adhesive left on the skin with warm soapy water. We recommend you do not exceed one patch per day.
This patch is not a medicine, rather a carefully formulated natural blend. In the unlikely event of any side effects cease use and consult your physician. Pregnant and lactating women or anyone taking medicine should consult medical advice.