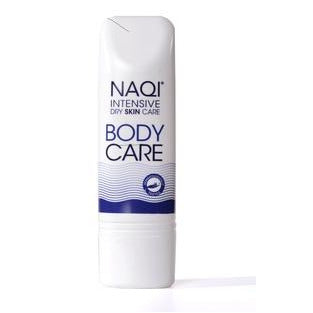 NAQI Body Care
NAQI

 BODY CARE
NAQI® Body Care is a high-quality, very effective cream for dry, vulnerable and sensitive skin.  
________________________________________
NAQI® Body Care provides intensively hydrating and protecting skin care.
Immediate and long lasting nourishing and hydrating effect. 
Reduces and eases skin irritation
Supports skin healing. Protects the skin by optimizing the skin barrier function. A well maintained skin barrier improves the water content.
Improves the connective tissue. NAQI® Body Care actively reduces the formation of Advanced Glycation End products (AGE).
Reduces (premature) skin ageing.
Dermatologically tested
The efficiency is clinically tested and approved 
NAQI® Body Care is specifically suitable for the daily care of the sensitive and the (very) dry skin, in particular of diabetes patients.
The cream may be used on both face and body. 
Usage
Apply the cream once or twice per day onto the dry and sensitive skin and gently massage.   
Packaging
100 ml, 500 ml 
Properties
Specifically developed for the daily care of dry and sensitive skin.
Provides intensive and long-lasting hydration
Provides intensive care for a wide range of skin care problems
Prevents and reduces skin irritation
Prevents reactions to sugar and protein.
Neutralises harmful effects of free radicals.
Suitable for the dry and sensitive skin of diabetes patients
Dermatologically tested
Contains a hypoallergenic perfume
The efficiency is clinically tested and approved
Ingredients
NAQI® Body Care contains anti-ageing ingredients , an intensive 24hours moisturizer and natural antioxidants.

Aqua, Propanediol, Hydrogenated Vegetable Oil, Butyrospermum Parkii , Isostearyl Isostearate, Sorbitan Stearate, Squalane, Cetearyl Ethylhexanoate, Glycerin, Cetearyl Alcohol, Glyceryl Glucoside, Sodium Stearoyl Lactylate, Decarboxy Carnosine HCL, Tocopheryl Acetate, Sodium Lactate, Glycine Soja Sterols, Sodium Carboxymethyl Beta-Glucan, Carnosine, Lactic Acid, Sucrose Cocoate, Phenoxyethanol, Olus Oil, Ethylhexylglycerin, Alcohol, PEG-40 Hydrogenated Castor Oil , Tocopherol , Vitis Vinifera Seed Extract, Dimethylmethoxy Chromanol, Xanthan Gum, Parfum, Trisodium Ethylenediamine Disuccinate, Rosmarinus Officinalis Extract.
CM-Glucan : improves the self-protecting capacity of the skin and provides a high quality protective film.
Glyceryl Glucoside: Reduces and prevents skin irritation
Lamellaire lipids and Isostearyl Isostearate: Boost the barrier function
Humectants propanediol, glycerine and lactate intensively hydrate the skin
Decarboxy Carnosine HCl, Carnosine, Tocopherol and Vitis Vinifera Seed extract reduce the formation of AGE's