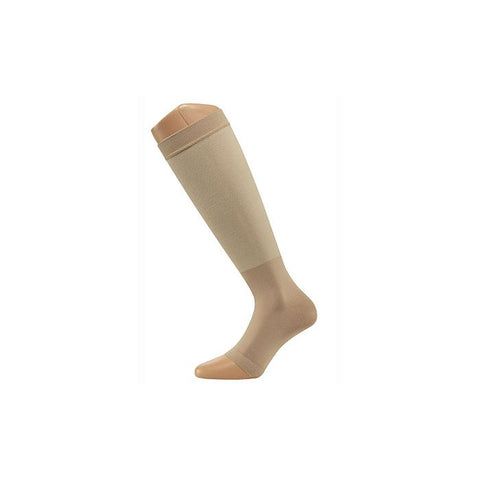 Juzo Dual Stretch Sock
Juzo 

Dual Stretch

 Sock
Compression from the toes to ankle
Juzo Dual Stretch AD compression stocking with two-way stretch in the foot and one-way stretch above the ankle for a graduated compression for comfort whilst on the move.
The Velcro fastener and the gripping zones ensure easy donning and adjustment in case of fluctuations in body circumference. The special indentations ensure that no gaps can form between the straps.
Features
US Class 2 20-30mmHg
Can be worn as a base layer under a Juzo Compression wrap system
Two-way stretch in the foot and ankle area
Open Toe only
Size Chart
Sizing is extremely important for your compression hosiery to work effectively. Ensure you measure the points on the diagram below comparing them to the charts below to find the right size for you.
Where to measure?
1. Choosing a Size
Circumference measurements in cm for the following points:
cC - Calf - widest point at the calf
cB - Ankle - narrowest point above malleoli
2. Choosing a Length
Length measurement in cm for the following point:
LA-D - Length - from the bottom of the heel to just below the knee
1. Size Chart

| Circumference | I / XS | II / S | III / M | IV / L | V / XL |
| --- | --- | --- | --- | --- | --- |
| cC | 29 - 38cm | 34 - 43cm | 37 - 49cm | 41 - 53cm | 46 - 58cm |
| cB | 18 - 21cm | 21 - 24cm | 24 - 27cm | 27 - 31cm | 31 - 35cm |
2. Length Chart

| Length | Short | Regular |
| --- | --- | --- |
| LA-D | 34 - 40cm | 40 - 46cm |
Colours
Beige only