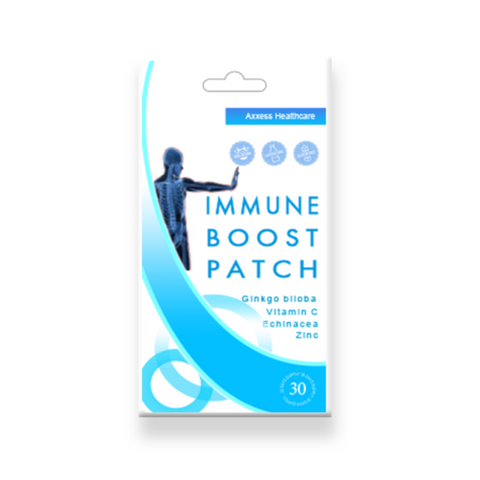 Immune Boost Patch - 30 days supply
Immune Boost Patch - 30 days supply
A proprietary blend of premium ingredients designed to promote immunity
Key Benefits
+ Unique Blend of natural nutritional support to boost your body's defences.
Vitamin C
Zinc
Echinacea
Selenium
Ginkgo biloba
+ immune boosting ingredients that strengthens your body's immune system and aids faster recovery
+ Supports normal, healthy white blood cells, essential for immune system
   functioning
To be used in conjunction with a healthy diet and exercise.
Each pack contains 30 day's supply
Immune Patches
Key Features 
+24-hour support
+Discreet & easy to wear
+Peel, Stick & Go
+Hypoallergenic
+Vegetarian and Gluten Free
Summary of benefits, Ingredients
Vitamin C

may boost immunity by helping white blood cells function more effectively, strengthening your skin's defence system

and helping wounds heal faster.

Zinc

helps keep your immune system strong; deficiency leads to weakened immune response.

Echinacea

numerous studies found that it may help your immune system-combat infections and viruses, which may aid a faster recovery from illness.

Ginkgo biloba 

has strong anti-inflammatory and antioxidant capacities and the ability to improve circulation.
Using Immune Boost Patches couldn't be easier. Simply apply one patch to a relatively hair-free part of your body (the inner arm, lower back or shoulder are ideal) and change it at the same time every day. You can wash off any residue or adhesive left on the skin with warm soapy water. We recommend you do not exceed one patch per day.