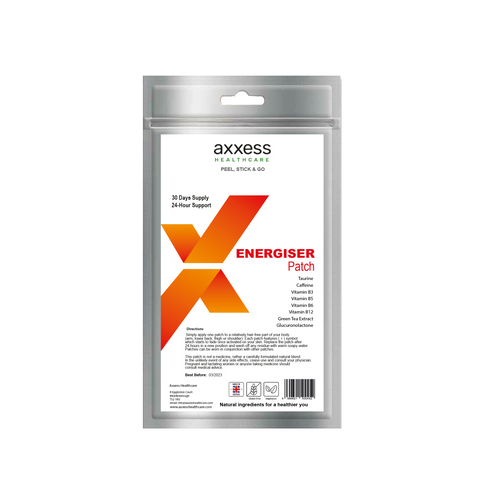 Energy Patch - 30 days supply
Energy Patch - 30 days supply
A proprietary blend of premium ingredients designed to promote energy
Key Benefits
providing you 24-hour support.
Caffeine
Taurine
Glucuronolactone
Green Tea
Vitamin B3
Vitamin B5
Vitamin B6
Vitamin B12
To be used in conjunction with a healthy diet and exercise.
Each pack contains 30 day's supply
Energy Patches
Key Features 
+24-hour support
+Discreet & easy to wear
+Peel, Stick & Go
+Targeted fat loss
+Hypoallergenic
+Vegetarian and Gluten Free
Summary of benefits, Ingredients
Caffeine blocks an inhibitory neurotransmitter in your brain, which causes a stimulant effect. This improves energy levels, mood and various aspects of brain function.
Taurine plays several important roles in your muscles and may aid various aspects of exercise performance by reducing fatigue, increasing fat burning and decreasing muscle damage.
Effective at increasing energy levels and improving alertness.
Glucuronolactone supplementation also significantly reduces "brain fog" cause by various medical conditions.
contains the amino acid L-theanine, which can work synergistically with caffeine to improve brain function.
Niacin helps convert food into energy by aiding enzymes. Specifically, niacin is a major component of NAD and NADP, two coenzymes involved in cellular metabolism.
All B vitamins help you convert the protein, carbohydrates, and fats you eat into energy.
Using Energy Patches couldn't be easier. Simply apply one patch to a relatively hair-free part of your body (the inner arm, lower back or shoulder are ideal) and change it at the same time every day. You can wash off any residue or adhesive left on the skin with warm soapy water. We recommend you do not exceed one patch per day.