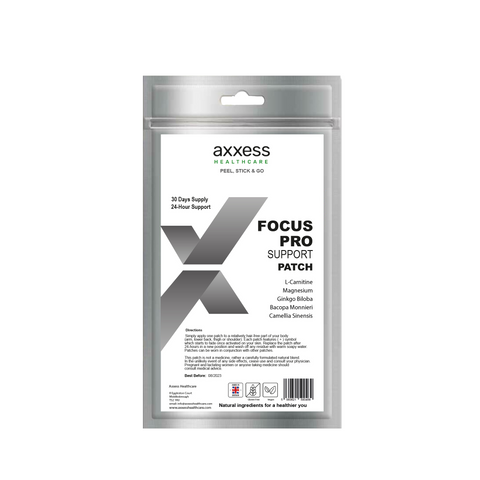 Focus Pro Patch - 30 days supply
Focus Pro Patch - 30 days supply
A proprietary blend of premium ingredients designed to promote your focus
Key Benefits
providing you 24-hour support for your Brain
Ginkgo Biloba
L-Carnitine
Magnesium
Bacopa Monnieri
Camellia Sinensis
To be used in conjunction with a healthy diet and exercise.
Each pack contains 30 day's supply
Focus Patches
Key Features 
+24-hour support
+Discreet & easy to wear
+Peel, Stick & Go
+Targeted fat loss
+Hypoallergenic
+Vegetarian and Gluten Free
Summary of benefits, Ingredients
Has been repeatedly evaluated for its ability to reduce anxiety, stress and other symptoms.
Taking acetyl-L-carnitine improves memory and mental function in older people with some memory loss & tiredness in older adults.
Acts as the gatekeeper for NMDA receptors, which are involved in healthy brain development, memory and learning. It prevents nerve cells from being overstimulated
Research shows that it may boost brain function and alleviate anxiety and stress, among other benefits.
White tea is packed with polyphenols, which have antioxidant benefits. They help reduce chronic inflammation by protecting the body against damage from free radicals.
Using Focus Pro Patches couldn't be easier. Simply apply one patch to a relatively hair-free part of your body (the inner arm, lower back or shoulder are ideal) and change it at the same time every day. You can wash off any residue or adhesive left on the skin with warm soapy water. We recommend you do not exceed one patch per day.