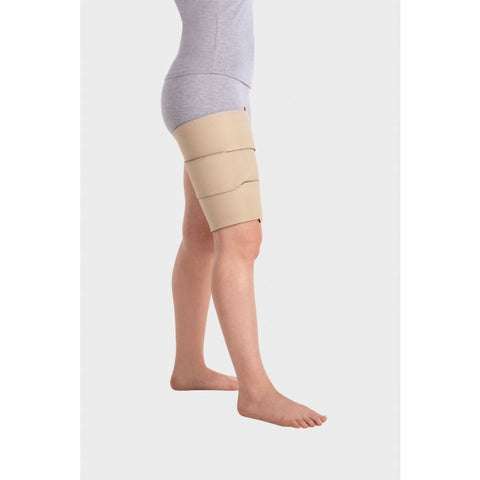 Juzo Compression Thigh Wrap
Juzo Compression Wrap

 System - Thigh Wrap
Efficient and effective - designed for wound care and very stubborn oedema
Circumference fluctuations often arise early phase of treatment. Juzo Compression Wrap is an adjustable compression system that can be employed as an alternative to conventional wrap-around bandages. It is especially important to thoroughly clean all wounds before applying the compression system. If there are any open wounds in the region being treated, these wound areas must first be covered with a suitable wound dressing or bandage before apply the compression system.

Thanks to its short-stretch properties, the Juzo Compression Wrap exerts a very high working pressure and a low resting pressure. The Velcro fastener and the gripping zones ensure easy donning and adjustment in case of fluctuations in body circumference. The special indentations ensure that no gaps can form between the straps. This prevents "window oedemas."
Special characteristics: Juzo Compression Wrap can be used individually in segments but can also be combined and it is reversible black and beige! Also available in max versions for wider circumferences.
Features
Adjustable to the individual wearer when treating fluctuating body circumferences
Variable compression 30–60 mmHg
Special indentations in the end of the straps prevent the formation of "window oedemas"
Gripping zone at the upper and lower end make donning easier
Faster donning compared to wrap-around bandages
The item is reversible, with black on one side and beige on the other, to suit the individual patient's preference
Made from 100% neoprene
Why not take a closer look for yourself at the advantages of this new wrap system from Juzo by clicking the video link here.
PLEASE CONSULT WITH YOUR DOCTOR, OR OTHER QUALIFIED HEALTH CARE PROFESSIONAL BEFORE USING JUZO COMPRESSION WRAPS
Juzo 

Compression Wrap 

can assist with the following indications:
Wound Healing

lymphoedema

lipoedema

post-traumatic

oedema

post-operative oedema
Contraindications
Absolute contraindications (where the Compression Wrap treatment is absolutely inadvisable)
Moderate to severe arterial disease (ankle-arm-index < 0,7)

Reduced sensitivity of the extremities

Untreated vascular infection

Uncontrolled (decompensated) congestive heart failure

Untreated or advanced skin disease

Swelling of the extremities of unknown cause

Advanced peripheral vascular disease

Untreated open wounds

Erysipelas
Relative contraindications 
Peripheral neuropathy with diabetes mellitus

Congestive heart failure