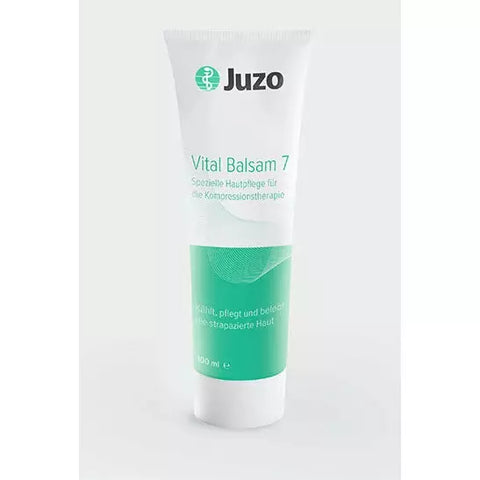 Juzo Vital Balsam 7
Juzo Vital Balsam 7
Special skin care for compression therapy
Art. 9830

The ideal skin care for day and night
This especially skin-friendly emulsified gel combines the advantages of a gel with the properties of a cream. Juzo Vital Balsam 7 has been specially developed for wearers of compression garments:
it cools like a gel, is non-greasing, rapidly absorbed and keeps your skin smooth and supple.

Juzo Vital Balsam 7 contains high-quality, active cosmetic ingredients such as panthenol, vitamin E and menthol. Panthenol smooths the skin and makes it soft. Vitamin E boosts the skin's protection against environmental factors and free radicals. Menthol invigorates and leaves the skin feeling cool and refreshed. The valuable natural extracts from red vine leaves, horse chestnut and arnica blossoms support blood circulation in the skin.