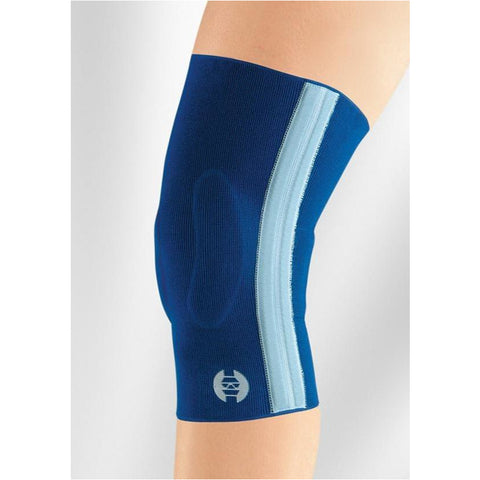 JuzoFlex® Genuaktiv Knee Brace
JUZOFLEX® Genuaktiv Knee Brace
Knee bandage with crescent-shaped, asymmetrical pads



An innovative knee support that has a sensory effect on the muscles, thereby improving the stability of the knee joint.
Characteristic of the innovative JuzoFlex Genuaktiv Knee Bandage are their crescent-shaped, asymmetrically shaped massage pads (pads). They mould the kneecap and thus provide a pleasant relief to the joint. At the same time, the pads trigger a massaging effect along with the compressive knit fabric, stimulates the blood circulation in the surrounding musculature. This speeds up the reduction of swelling and activates sensorimotor processes that improve muscle control.
Laterally integrated double spirals complete the therapeutic efficacy of the Genuaktiv Knee Bandage.Thanks to its comfort cushion in the hollow of the knee, it is also extremely comfortable to wear - even when sitting for a long time.
Available for the left and right knee. Approx.length is 30 cm.
JuzoFlex®  Genuaktiv Knee Brace
Knee bandage with crescent-shaped, asymmetrical pads
Crescent shaped, asymmetric pads to relieve pressure on the patella
Comfort cushion for the knee hollow - For improved comfort of wear, even when sitting for long periods of time
Left or right knee specific 
JuzoFlex® Genuaktiv Knee Brace can assist with the following indications:
After immobilization for early mobilization
Knee joint distortions and effusions
Arthroses in the femoropatellar joint
After surgical interventions
Patellar luxation tendency