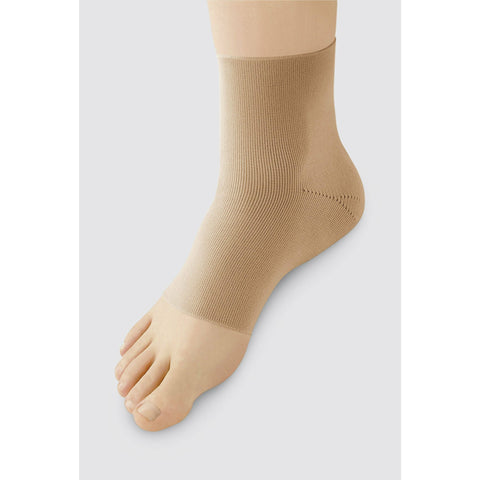 JuzoFlex® Malleo 707
JUZOFLEX® Malleo 707
Ankle sock for compression around the ankle - pair
How often has this happened to you: You're wearing high heels, playing sport, or simply put your foot down wrong and suddenly you twist your foot. This can result in a sprained, or even worse, a torn ligament. Tearing of the lateral ligament of the ankle is one of the most common ligament injuries of all. Such tears can have consequential effects that often only appear later, but then cause permanent or irreversible damage, such as arthrosis.
Juzo created the JuzoFlex® Malleo 707 specifically to prevent these long-term consequences. but also to provide compression to the ankle area for oedema management and burns

All day comfort
The Malleo 707 can be worn in any shoe and is designed for continuous use thanks to its especially thin profile.
Features

JUZOFLEX® Malleo 707
Ankle sock for support, oedema management and scar management.
designed for a permanent use
extremely thin, therapeutic flat-knitted fabric
JuzoFlex® Malleo 707 can assist with the following indications:
chronic lateral and medial ligament instabilities
after onset of arthrosis and for arthrosis prevention
to accelerate resorption of oedema, effusions and haematoma
to help heal after burns

under compression where a higher level is required at the ankle
JUZOFLEX® Malleo 707
Ankle sock 
Beige Only.
JUZOFLEX® Malleo 707
Ankle sock