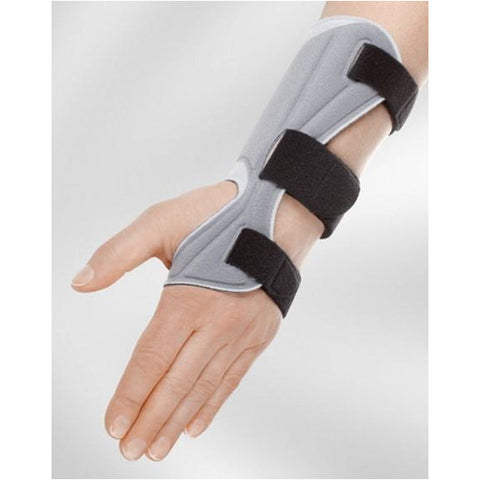 JuzoPro® Manu Palmar Wrist Orthosis
JuzoPro® Manu Palmar Wrist Orthosis
Wrist orthosis for stabilisation in two movement directions 
This new-generation wrist orthosis has an open construction, is airy and light, yet still guarantees a reliable stabilisation of the wrist. 
Stabilization of the wrist - The palmar stabilization splint has been made especially wide therefore offers generous support for the forearm and carpal joint. The distal end of the splint has been formed into the shape of an inverted spoon. It therefore provides optimal support to the curved shape of the carpal bones. The velcro straps keep the stabilisation elements smoothly pressed against the wrist, thereby reliably stabilising it in two movement directions.


Comfort zones for the thumb - To avoid pressure points, soft comfort zones have been incorporated into the sensitive areas between the thumb and forearm.
JuzoPro® Manu Palmar Wrist Orthosis has the following features:
Functional design with large thumb opening and free movement of the finger.

Reliable stabilization, due to an extra wide, anatomically shaped aluminum splint (palmar), and a spoon-shaped indentation at the distal end to support the carpal bones.

Additional stabilisation element (dorsal) in the form of a circular hoop.

Individually adjustable fastening strap.

Selected breathable materials draw moisture away from the skin.

Innovative fastening system that also allows post-operative application of the orthosis in connection with bandages.

One size only and available for left or right hand.
JuzoPro® Manu Palmar Wrist Orthosis can assist with the following indications:
Medium to severe distortions (sprains/strains)

Luxations (injuries of joints/tendons)

Medium to severe tendovaginitis (tendosynovitis)

Radial paresis (paralysis/wrist drop)

Carpal tunnel syndrome

Arthrosis and rheumatoid arthritis (chronic irritative conditions)

Post-traumatic/post-operative immobilization (alternative to cast)