Lipoelastic Active Leggings
Compression leggings are suitable for everyday wear to prevent the feeling of heavy and swollen legs. They support blood circulation, functions of the lymphatic system and help to remove harmful substances from the body.
Compression therapy helps to prevent swelling of the legs and creation of cellulite caused by water retention in the body.
Super comfortable for Lipoedema sufferers too.
When to Use ACTIVE Leggings?
Suitable

 

for everyday wear, sports activities and travel

prevent swelling of the legs
prevent the feeling of heavy legs
prevent water retention in the body
prevent cellulite
as post-operative underwear for patients suffering from diseases of the lymphatic system
as a support for blood circulation
for optical slimming of the lower limbs
may help to reduce the symptoms of lipoeema
Colour version
Product description
Compression leggings without fastenings are finished at the waist with a wide,

 

designed rubber, so that they don't roll or slide 
The leg openings are

 

finished with a clean laser cut

 

to ensure maximum comfort around the ankles  
Elastic flat seams

 

prevent chafing and bruising of the skin 
Leggings are made of a high compression material which removes body moisture,

 

suppresses the symptoms of cellulite and optically slims the figure

 

(shapewear) 
The leggings material is

 

opaque, quick-drying and is resistant to pilling 
The CLASSIC material maintains its constant compression even after repeated washing 
Compression leggings are without a hygienic opening;

 

to ensure comfort for the whole time of wearing, a gusset

 

(a diamond-shaped piece of fabric)

 

is sewn in the crotch 
The compression effect is reduced in the knee area to avoid unpleasant pressure during walking, sitting and participating in sports activities 
The leggings are

 

packed in a luxurious satin bag; the package also includes a protective laundry cover 
Closure
The garment is without fastening
Benefits of ACTIVE Leggings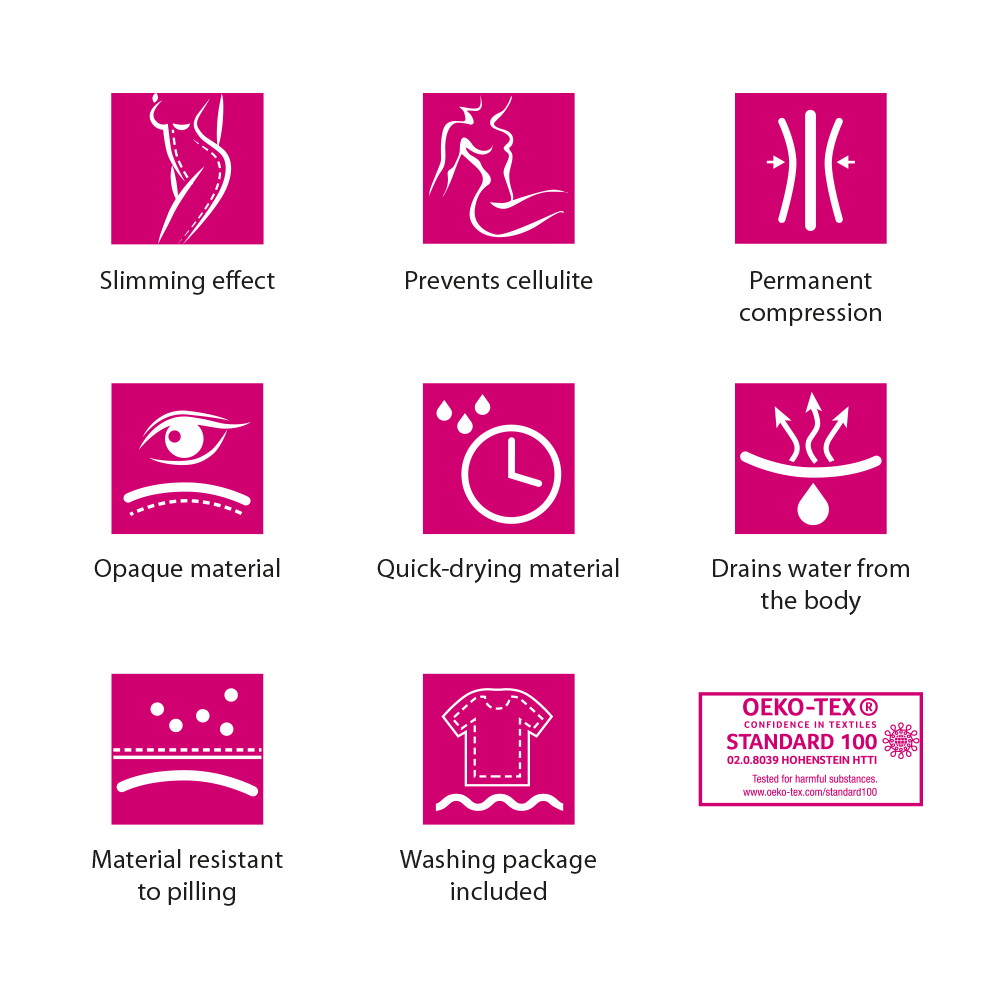 Permanent compression
Drains water from the body
Prevents cellulite
Slimming effect
Opaque material
Quick-drying material
Material resistant to pilling
Oeko-tex
Washing package included