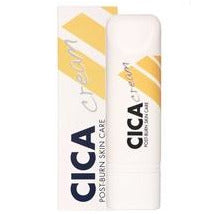 NAQI Cica Cream
NAQI

 Cica Cream
Daily Care of burned skin
________________________________________
NAQI® Cica Cream:
· Improves the appearance of scars, the barrier function and the skin elasticity. 
· Facilitate functional rehabilitation.
· Facilitate the process of putting on pressure garments.
· Omega 3 and 6 Fatty Acids (Seabuckthorn and Camelina Sativa Seed Oil) stimulate the skin regeneration.
· Palmitholeic acid Omega 7 Fatty Acid accelerates cell rejuvenation, improves the the healing process and prevents deterioration of the cell membranes.
· Opuntia Ficus-Indica Stem Extract and Bisabolol prevent and reduce irritations and itching.
· The liquid crystal structure rebuilds and restructures the natural skin barrier.
· Hippophae Rhamnoides Berrier Extract hydrates and smoothens regenerated skin.
Use: Gently apply NAQI® Cica at least twice a day. The skin requirements may vary throughout the year: in the winter a more intense nourishing is required by using the NAQI® Cica Cream. In the summer the NAQI® Cica Gel is advised because it gives a lighter feel. To increase the efficiency of the treatment see the NAQI® Scar Massage and Micro-mobilisation techniques.
Packaging: 100 ml